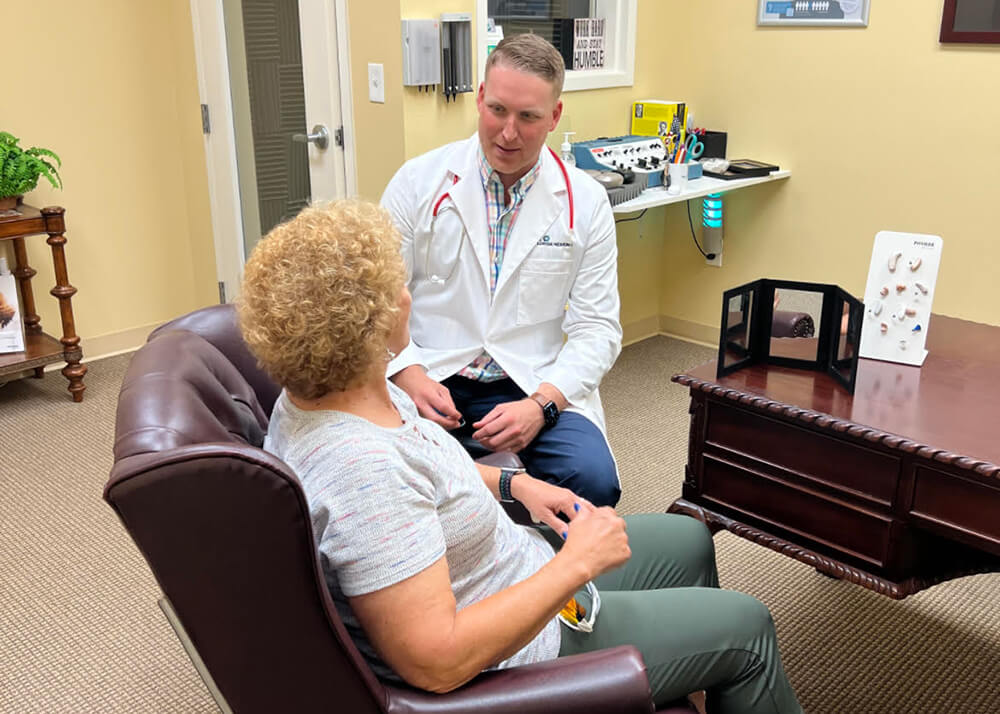 Today's hearing aids are some of the savviest and most advanced pieces of technology.
These devices have experienced significant innovations over the years. There is a wide range of options, styles, and features that are designed to easily integrate into daily life. These features not only maximize hearing capacity but enhance connectivity and usability. 
At Mid Florida Hearing, we use our expertise to help you navigate your hearing aid options. Learning more about hearing aids can also help you make the most informed decision when choosing the device for you.
Request an Appointment
Hearing Aid Types & Styles
There are various types of hearing aids. These types refer to the style of hearing aid that encompasses how the device is worn. Common types include the following: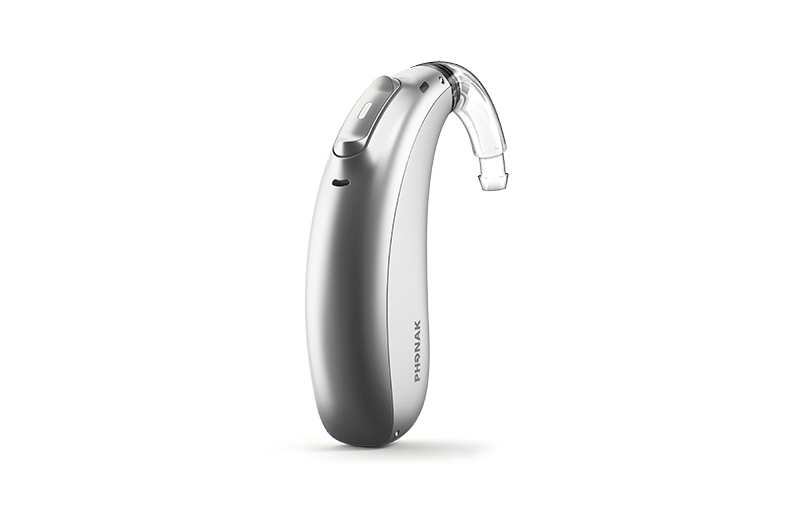 Behind The Ear (BTE)
For Severe-Profound Loss
Behind The Ear (BTE): For Severe-Profound Loss: BTE hearing aids locate the receiver inside the ear and leave the microphone and amplifier in a cartridge that sits behind the ear. Traditional BTEs house the microphone and amplifier in a larger plastic unit, which is connected to the receiver through a small plastic tube. The tube is used to transmit sound information from the cartridge to the ear. Mini BTEs house the microphone and amplifier in a unit that wraps around the ear itself, custom-fitted to the shape of each ear. These units are designed for those who experience sensorineural hearing loss—reduced hearing due to damage to the tiny hairs in the inner ear over time.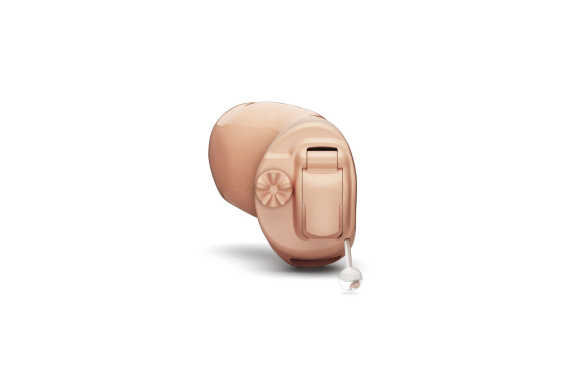 Completely In Canal (CIC)
For Mild-Moderate Loss/Some Moderate-Severe Loss
CIC hearing aids are similar to BTEs, but they house all three components in a single unit inside the ear canal. As opposed to the visible BTEs, CIC units are nearly invisible. A digital device is used to filter out noise and to amplify sounds in the necessary range. Some wearers find them to be more comfortable, while others report that they feel like their ears are plugged.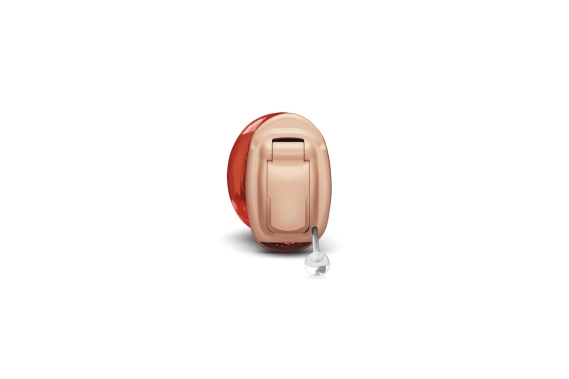 Invisible In Canal (IIC)
For Mild-Moderate Loss
While CIC hearing aids are nearly invisible, IIC units are completely invisible, sitting deep inside the ear canal out of view. Some of those who find that CIC units make them feel like their ears are plugged prefer the tiny size and location of IIC hearing aids. One of the drawbacks of IIC units is that they can become damaged by moisture and waxy buildup. Also, they can be more difficult to manipulate for those with dexterity concerns.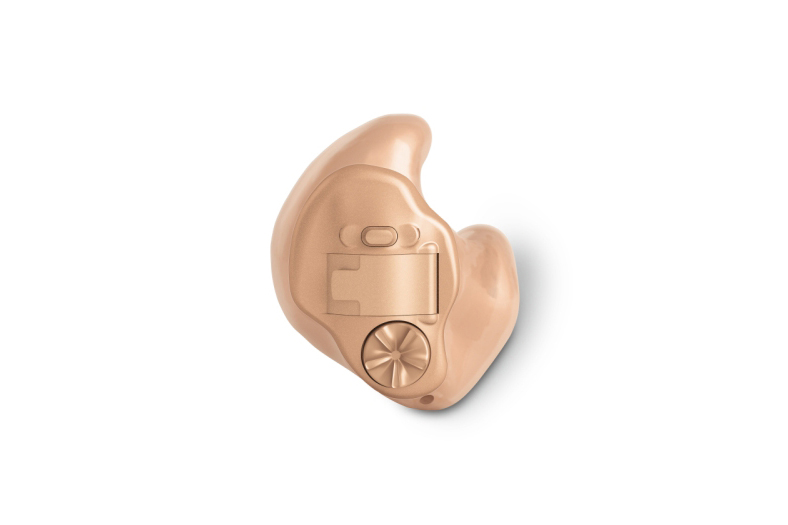 In The Ear (ITE)
For Moderately Severe-Severe Loss
ITE hearing aids are similar to traditional BTEs, but rather than placing the microphone and amplifier behind the ear, these components are held in a plastic cartridge that sits in the opening of the ear. They are very easy to insert and remove when they have the right fit, making them ideal for those who suffer from arthritis and other manual dexterity concerns. However, they can be troublesome for exercise and active lifestyles.
---
We use several important factors to determine the type of hearing aid that would work best for you. This includes the degree of your hearing loss and lifestyle factors that inform the types of environments your hearing aid needs to support you.
Today's hearing aids offer numerous features that deliver enhanced sound quality as well as connectivity. Three popular and useful features include: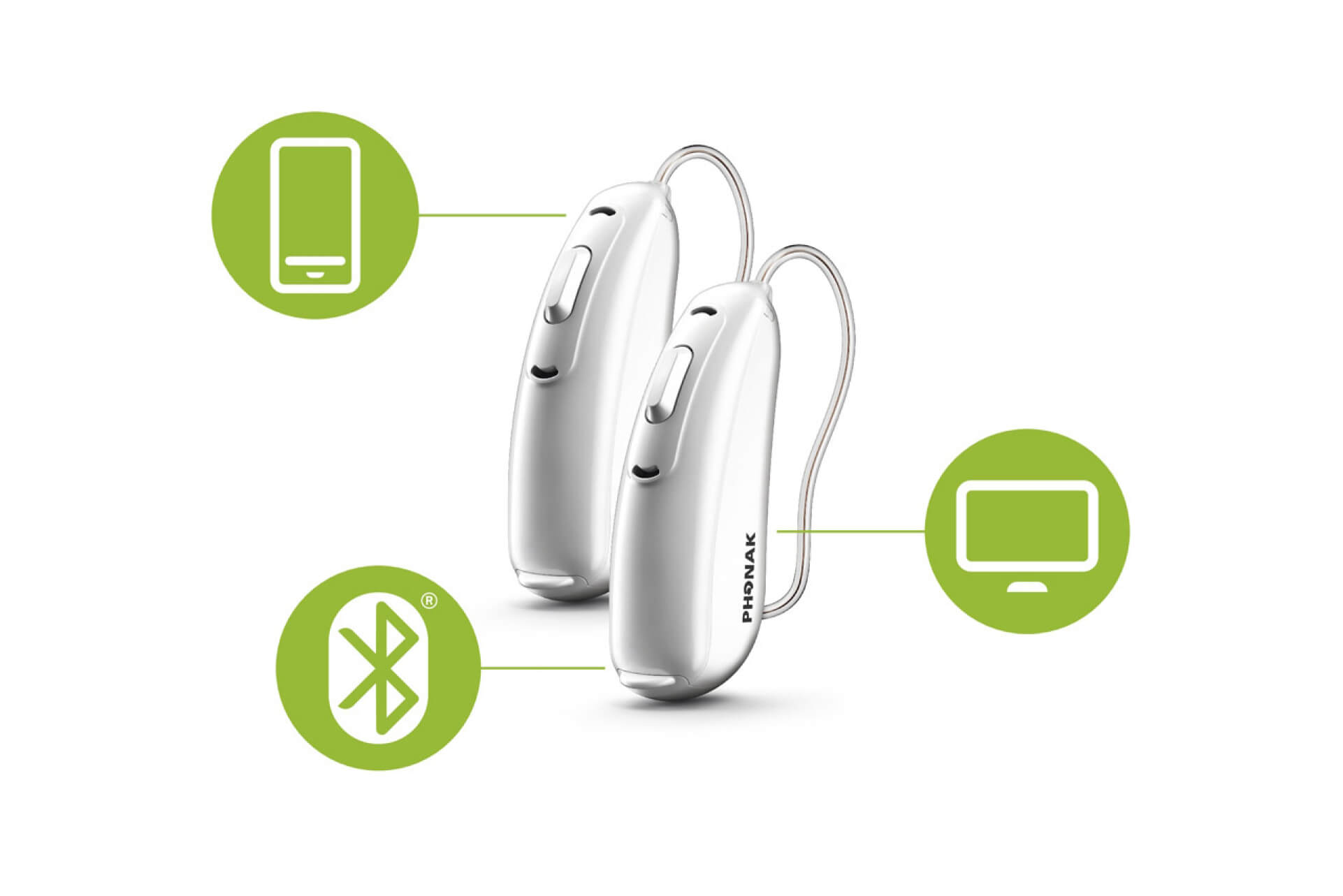 Wireless Connectivity
Using Bluetooth technology, hearing aids can wirelessly connect to other electronic devices: your phone, television, speaker, etc. This allows your hearing aid to stream audio directly to it which offers major benefits including high sound quality and the ability to talk on the phone hands-free. Streaming audio directly to your hearing aid makes it easier to hear and creates a seamless listening experience. This enables people to engage in various activities more comfortably and conveniently. For example, taking walks while listening to music or your favorite podcast.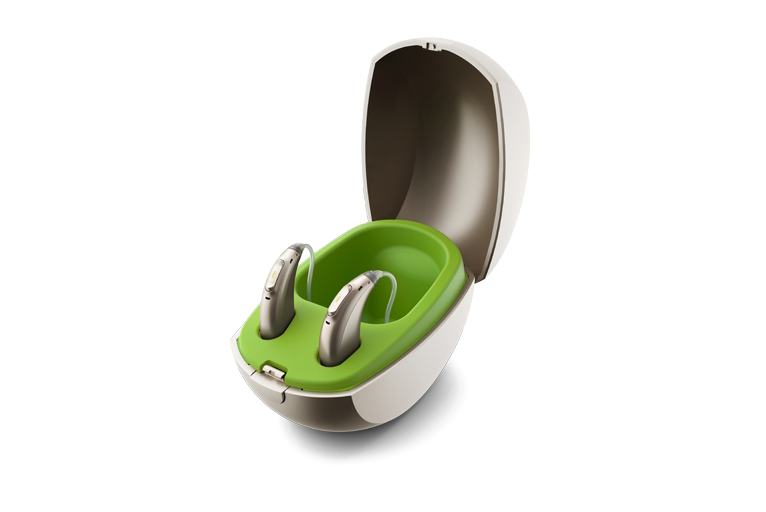 Rechargeable Battery
Another great feature is the rechargeable battery. Similar to electronic devices like cell phones and tablets; rechargeable hearing aids have batteries that are built into the device. This allows you to easily charge your device by attaching it to the charging unit that is plugged in. This differs from other hearing aids that are powered with disposable batteries which requires people to consistently buy and swap out batteries. A rechargeable hearing aid is more sustainable and convenient.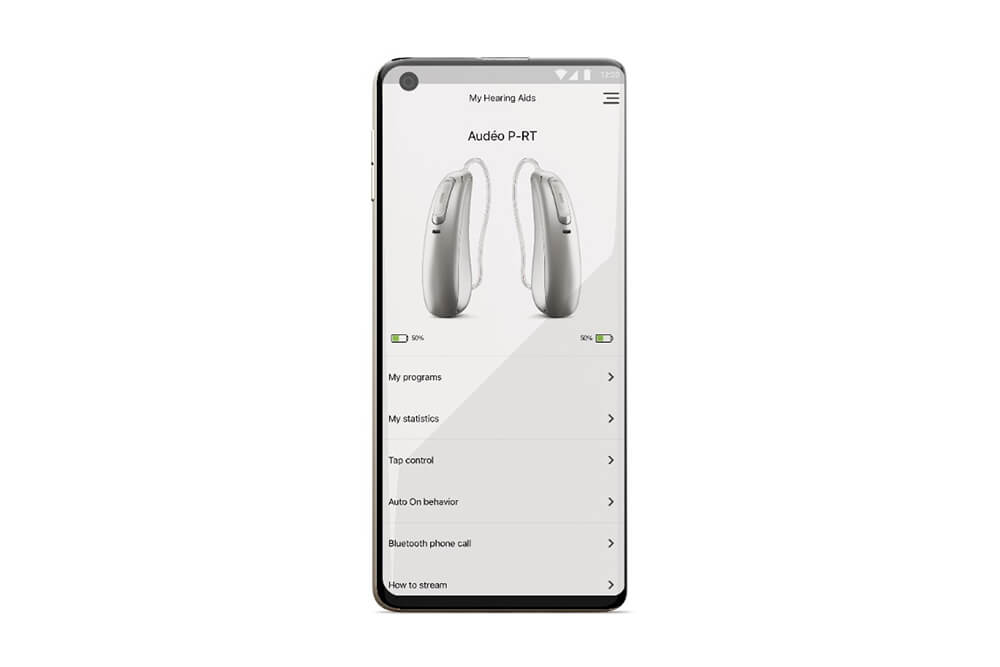 Remote Support
Most hearing aids are now able to have Remote Support. This means that if you are a Snow Bird who goes back and forth, an active adult who travels frequently, or if you just want to have the convenience of making small adjustments from the comfort of your home, we can now do this.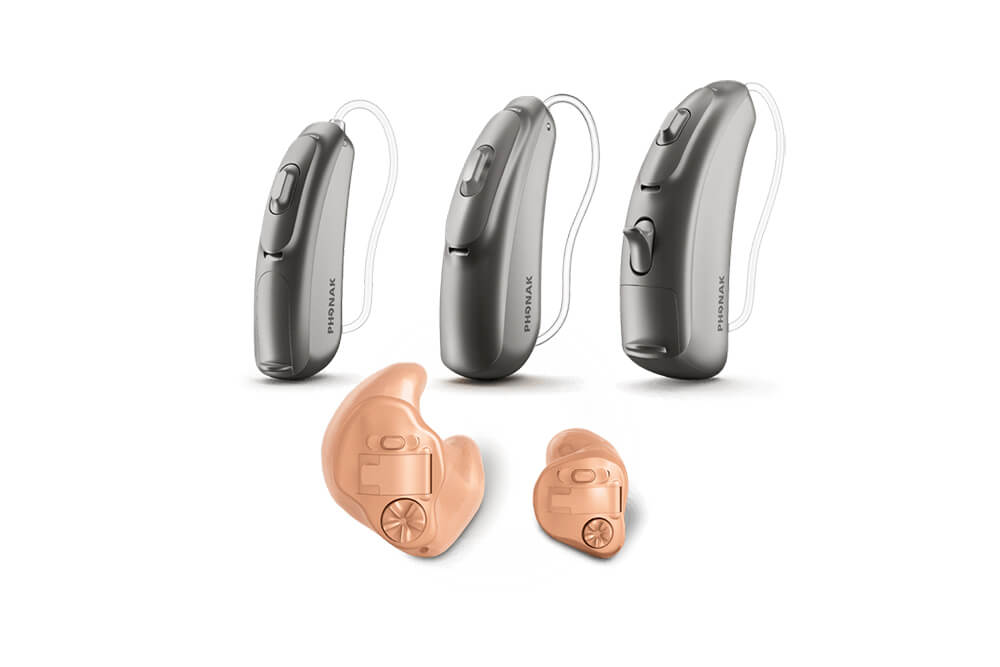 CROS Hearing Aids
Benefits & Features: Contralateral routing of sound (CROS) system is a type of hearing aid that is designed for people who have near-total hearing loss in one ear and no hearing loss in the other. This system involves the hearing impaired ear wearing a transmitter while the other ear wears a hearing aid. The transmitter collects and absorbs sounds from the environment and sends them to the hearing aid that is worn on the ear with no impairment. This delivers soundwaves to the optimal ear which helps with processing the sound. CROS hearing aids prevent all the hearing labor from falling on one ear, supporting hearing more easily.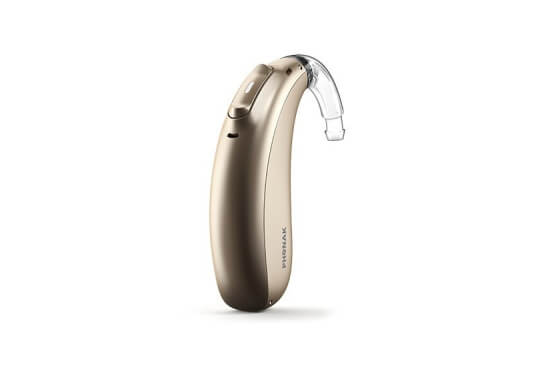 Power Hearing Aids
Power hearing aids are specifically made for people with severe or profound hearing loss. Power hearing aids, also referred to as superpower hearing aids, are typically behind the ear types that contain more circuitry so they can deliver louder sounds. All hearing aid manufacturers make power hearing aids, ensuring that people with all degrees of hearing impairment have quality hearing aid options. These hearing aids offer the same innovative features that other hearing aids come equipped with.
While navigating your hearing aid options, we will also thoroughly discuss the latest hearing aid features that you can benefit from. Contact us today to schedule an appointment to learn more about how hearing aids can benefit you!
Request an Appointment
Excellent service at a great price. I drive 40 minutes to get there, but they are well worth it. I wouldn't go anywhere else. Check them out, you might be surprised how much they can save you. I was
Nancy Stafford
2023-05-25
From the first time we walked through the door, and every single time since, Zach has been attentive, caring, knowledgeable, and sincere about giving us the best product, for the best price, for our needs! We would recommend them to anyone!
Great place to get your hearing aids!! They treat you right at the best price! Bart is very attentive to your needs! They sure do beat those CORPORATE places that only want your money!! Highly recommended!!
Gerald Beduch (Samcat13)
2023-05-23
Bin dealing with Bart And Zack for over 6 years. Excellent service and knowledge of all hearing aides and lowest Prices.
Terri Falkenstern
2023-05-22
The only disappointment is getting Zach to pair my caption phone blue tooth to the telecoil or something on that order. The caption phone would work perfectly with me if I could use the telecoil or blue tooth to hear the conversation in both ears simultaneously. That's all, otherwise, you get my 5 stars for everything.
I highly recommend Mid FL Hearing. Bart was so thorough and explained everything so well. My husband is very happy with his new hearing aids.
Very pleasant experience with courteous and knowledgeable staff. Will definitely come back here for all my hearing aid needs. Thank you Mid Florida Hearing
Bart did a great job explaining everything for my moms first hearing aid. It's nice going to an independently owned business. Great experience!!