Bluetooth & Hearing Aid Accessories
Similar to most electronic devices today, hearing aids have experienced tremendous innovation over the years. A major advancement that changed the landscape of the hearing aid industry is Bluetooth technology.
In the past, hearing aid wearers were limited in terms of what they could do and access while wearing their hearing aids. For example, if people wanted to listen to music while taking a walk, they had to remove their hearing aid to insert earbuds or wear headphones.
With Bluetooth hearing aids, wearers can wirelessly connect with other devices which allows the device to stream audio directly. This offers numerous benefits that allow hearing aids to easily integrate into daily life.
Request an Appointment
How to Pair Your Bluetooth Hearing Aids
NEW MyPhonak App Update & Review!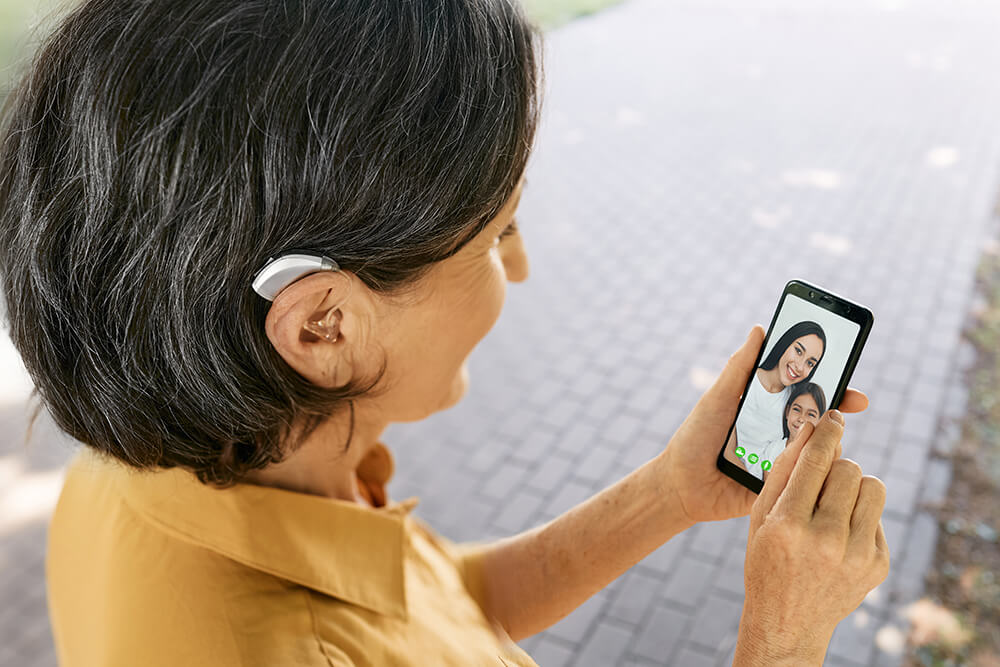 How Does Bluetooth Work?
We are more digitally and electronically connected today than ever before. From laptops, and tablets, to our smartphones; electronic devices have become essential items. They also allow us to engage in a range of activities including listening to music and podcasts, participating in virtual work meetings, as well as video chatting with loved ones. Bluetooth technology has made engaging in these activities more convenient and accessible. Bluetooth is a wireless technology that allows data to be transferred between two or more electronic devices. A wide range of today's products is equipped with Bluetooth - phones, computers, televisions, speakers, etc. Bluetooth allows these devices to connect and stream audio directly.
How exactly does Bluetooth work with hearing aids? Well, Apple has patented Bluetooth connectivity specifically with hearing aids. This allows hearing aids to wirelessly connect with iOS devices - iPhone, iPad, etc. Many hearing aid manufacturers produce hearing aids that are made for iPhone which means that they are equipped with the Bluetooth technology that pairs with the iOS device you have. For Android phones, Google is developing its Bluetooth-enabled hearing aid compatibility. There are several models of hearing aids that are also able to pair with Android phones.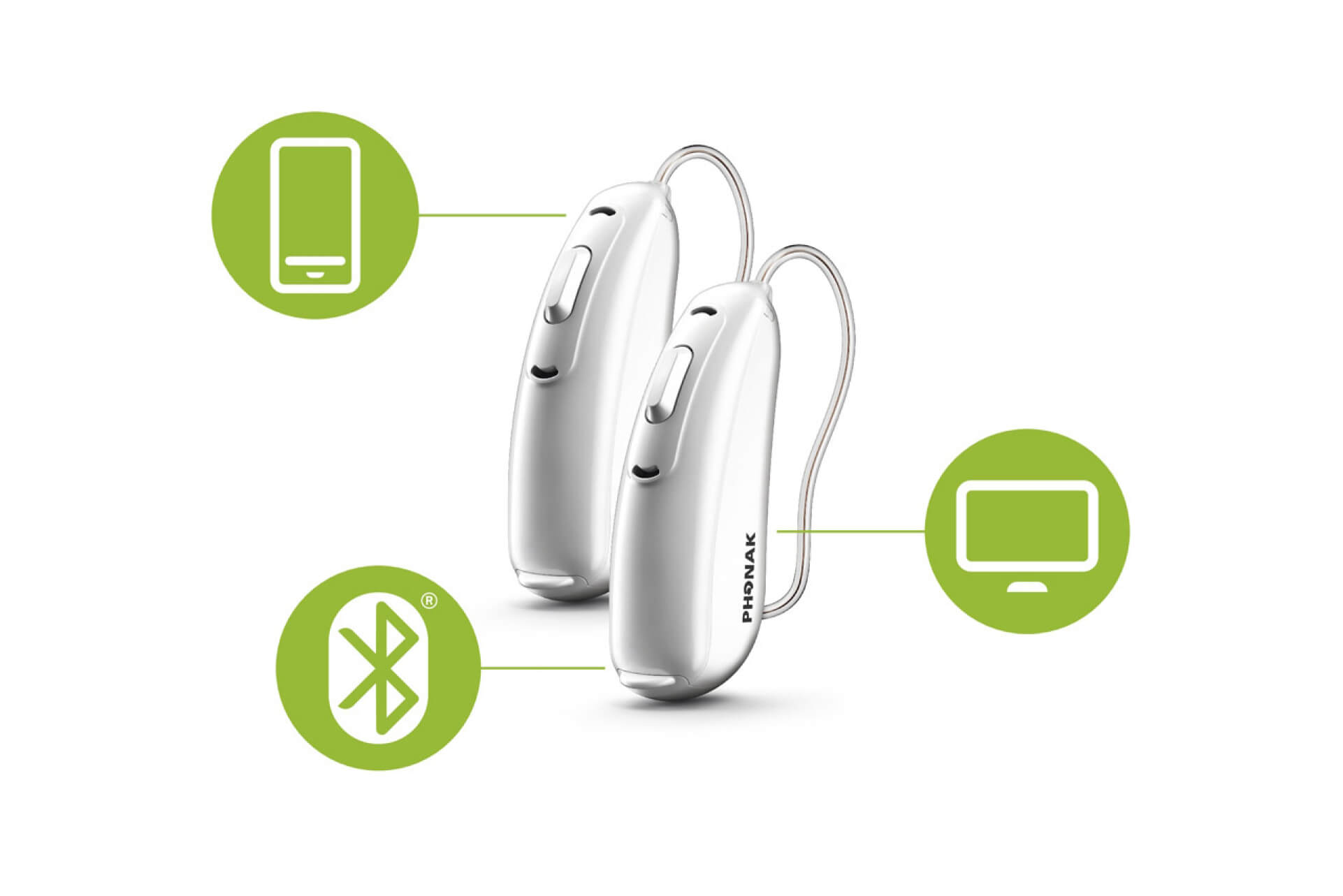 Benefits of Bluetooth Hearing Aids
Bluetooth hearing aids connect your device to the rest of the technology you regularly use. This offers several benefits including:
Increased connectivity: Bluetooth hearing aids can connect to a range of electronic devices. This allows you to easily switch between devices and stream audio. You can stream a movie from your laptop or your TV, talk on the phone, exercise while listening to music, enjoy an audiobook, etc. Being able to connect to the devices that you utilize increases connectivity, convenience, as well as comfort. 
Personalized listening experience: the audio signals received from the device you are paired to can be adjusted in numerous ways to best meet your hearing needs. Volume, pitch, background noise reduction, etc. of streamed signals are automatically adjusted to meet your preferences. This creates a more personalized listening experience that is pleasurable and comfortable.
Enhanced sound quality: hearing aids being able to stream audio directly enhances sound quality. People can listen to audio from an array of sources clearly and comfortably.
Issues with Bluetooth Hearing Aids
Are you having an issue with pairing your phone/tv streamer with your hearing aids? Did your phone have an update and now your hearing aids aren't working with your phone? Did you purchase a new phone and now your hearing aids won't work with your new phone?
Phonak and Signia have created a special Bluetooth hotline for issues just like this. It is easy, quick and they can get you back up and on your way.
Phonak: 1-800-679-4871
Signia: 1-800-350-6093
People can enjoy a hands-free chat on the phone, exercise while listening to music, have a great experience watching a movie, and much much more with Bluetooth hearing aids. If you are ready to make the switch, contact us today!



Excellent service at a great price. I drive 40 minutes to get there, but they are well worth it. I wouldn't go anywhere else. Check them out, you might be surprised how much they can save you. I was
Nancy Stafford
2023-05-25
From the first time we walked through the door, and every single time since, Zach has been attentive, caring, knowledgeable, and sincere about giving us the best product, for the best price, for our needs! We would recommend them to anyone!
Great place to get your hearing aids!! They treat you right at the best price! Bart is very attentive to your needs! They sure do beat those CORPORATE places that only want your money!! Highly recommended!!
Gerald Beduch (Samcat13)
2023-05-23
Bin dealing with Bart And Zack for over 6 years. Excellent service and knowledge of all hearing aides and lowest Prices.
Terri Falkenstern
2023-05-22
The only disappointment is getting Zach to pair my caption phone blue tooth to the telecoil or something on that order. The caption phone would work perfectly with me if I could use the telecoil or blue tooth to hear the conversation in both ears simultaneously. That's all, otherwise, you get my 5 stars for everything.
I highly recommend Mid FL Hearing. Bart was so thorough and explained everything so well. My husband is very happy with his new hearing aids.
Very pleasant experience with courteous and knowledgeable staff. Will definitely come back here for all my hearing aid needs. Thank you Mid Florida Hearing
Bart did a great job explaining everything for my moms first hearing aid. It's nice going to an independently owned business. Great experience!!